A year and more I decided to come back to the Wanda project and do some improvements. In order not to invent the wheel I decided to get a better view at the existing ports.
This is a quick view at the existing Wanda cocoa port. It is written by Tim Horton at 2009. The source code could be found at Github – https://github.com/hortont424/wanda
The port however is not functioning as a fortune wrapper but rather as a creature swimming around your screen. It is lovely amusement if you like moving stuff like this. You can see at the attached screen.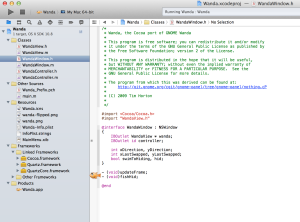 The hunt for Wanda cocoa wrapper continues.
To be continued …