This is "Wanda the fish" fan site and it is created for all the people out there that love this small Gnome applet called "Wanda".
If you never heard of Wanda then here is some introductory info:
Wanda is a small Gnome applet built as a wrapper around the Linux "fortune" program. It was meant to live in the Gnome status bar. When you click on the fish applet a pop up with a fortune cookie is displayed. Here how it looks like in my Backtrack v5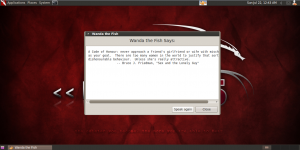 According to the Gnome documentation the author of the original applet is George Lebl (jirka at 5z dot com). Thank you George for bringing me so much fun

Believe it or not the applet is pretty addictive or at least I got addicted to that small creature. I had it with every one of my Gnome installations for more than 6 years now. Try it and see if it can get under your skin as well.
I started this site because the old fan page hosted on http://jrong.tripod.com/wanda.html is not working properly anymore.
Besides that I've started porting Wanda to different platforms so hopefully I could provide the favorite creature with several other habitable environments.
So basically the ideas gravitate around the following:
make Wanda site using html 5 and .php
recover my old Wanda Windows port project
put together Wanda WordPress widget
write up iOs Wanda port
compile new fortune files
Not so ambitious I believe. If you have any more ideas I would be happy to read them … just drop a line

There is Wanda version for Android. You can find it in the Android market. The authors are Fernando Bohrer (fernando at dotappend dot com) and Daniel Hartmann (daniel at dotappend dot com).
Thanks guys, nice job! I'm using it on daily basis

Wish you happy moments with Wanda!
ePsiLoN